April 29th – Zoom Music Bingo in Alberni Valley Pride
CAD $10.00 GST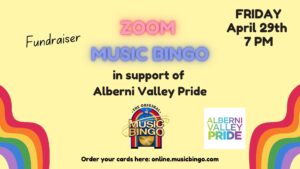 Alberni Valley Pride Zoom Room Music Bingo on April 29th, Friday at 7:00 pm Pacific Time.
Features Pride Friendly Music, Games and contests!
To play on Zoom purchase your cards here. Order as many as you would like.
Your cards and Zoom Room invite will be emailed to you the night before the event.
Zoom Room opens at 6:30 pm and Music Bingo begins at 7:00 pm.
taxes & fees applied at checkout non-refundable