April 30th – Zoom Music Bingo in support of 1st Abbotsford Scouts
CAD $15.00 GST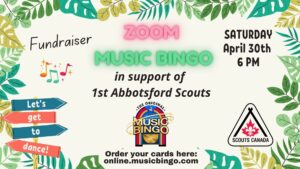 1st Abbotsford Scouts Zoom Room Music Bingo on April 30th, Saturday at 6:00 pm Pacific Time.
Features family friendly (& cleansed) music, games and contests!
To play on Zoom purchase your cards here. Order as many as you would like.
Your cards and Zoom Room invite will be emailed to you the night before the event.
Zoom Room opens at 5:30 pm and Music Bingo begins at 6:00 pm.
Music Bingo cards are $15.00 each. plus taxes & fees added at checkout
SAVE MONEY!  Enter a coupon code to save $5 per card!
Get a coupon code from a SCOUT! HELP a SCOUT-enter their coupon code to help them win a code contest!
Coupon codes MUST be entered at time of purchase no refunds can be processed afterward.