July 17th – Zoom Music Bingo Fundraiser in support of the victims of the Lytton wildfires
CAD $10.00 GST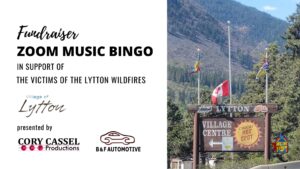 Join us for Zoom Music Bingo Fundraiser in support of victims of the Lytton wildfires on Saturday, July 17th.
Presented by Cory Cassel Productions and B&F Automotive.
Adult Oriented / Family Friendly Event
Play on Zoom from home – $10 per Music Bingo card for at least 3 Chances to Win!
The Music Bingo Zoom room will open at 7:30pm – Music Bingo will run from 8 – 10pm.
Out of stock