May 17th – Fraternal Order of Eagles Zoom Music Bingo supporting Charities
CAD $10.00 GST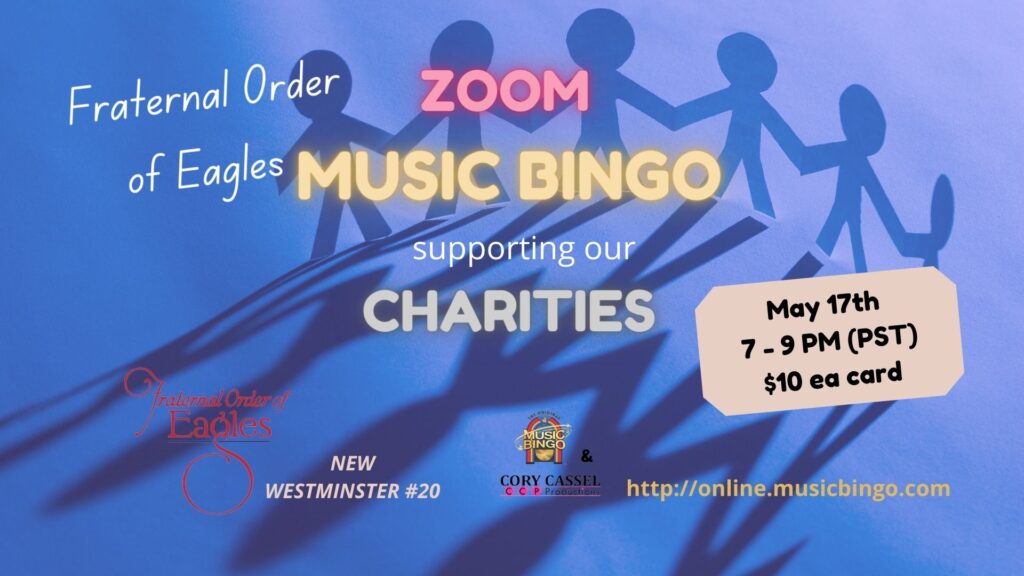 Join the Fraternal Order of Eagles for a Zoom Music Bingo Fundraiser to support Charities with great prizes to make it even more fun!!!
The Fraternal Order of Eagles is an international not-for-profit organization uniting fraternally in the spirit of liberty, truth, justice, and equality, to make human life more desirable by lessening its ills and promoting peace, prosperity, gladness and hope.
Show your support while dancing & having fun with the family and friends!
Monday, May 17th, 2021
Zoom Room login begins at 6:30pm
Music Bingo begins at 7:00pm
Play on Zoom from home
Music Bingo Cards are $10 each
We play 3 patterns… 1 Line, 3 Lines and then a Full Card… for 3 chances to win.
Cards will be sent out by email within 24 hours from the event start.
Out of stock